Partner Manual Worship Experience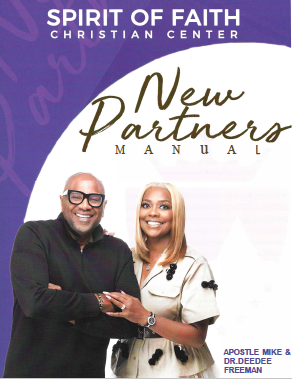 Spirit of Faith Christian Center
OUR WORSHIP EXPERIENCE
Praise and worship can be conducted in either a corporate or personal setting. As a partner of SOFCC, it is important to participate in both settings. Our corporate praise and worship is regularly incorporated into the order of service when we gather together as a congregation. We will audibly praise our God in song or in speech, both in tongues and in English. Additionally, we may stand, clap and/or lift our hands, bow down or kneel during praise and worship. We rejoice together in Christ Jesus and worship Him as a corporate body in spirit and in truth.
Our worship experience includes instrumental and vocal music, dance, dramatic presentations, and illustrative art to accompany the inspired Word of God. We utilize the many forms of fine and performing arts to attract, inform, and inspire as many people as possible to connect with Jesus Christ.
CORPORATE PRAYER AND PROPHECY
Our worship services will include times of corporate prayer – a collective petition and acknowledgement of the power of our God, our alignment with His will, and the power and authority He has granted to His children. According to the will of God, our worship services will also include prophetic messages delivered through Apostle Freeman and/or other members of the congregation. We firmly believe that Holy Spirit will manifest according to 1 Corinthians 14:40 – "decently and in order."
HOW TO GET INVOLVED: VISION ASSIST TEAM (V.A.T.)
The Vision Assist Team (VAT) allows Spirit of Faith Christian Center partners to immediately begin serving God with their time and talents in supporting select ministry areas even as they begin the qualification process for Ministry of Leaders. VAT currently supports the following areas of ministry:
ASL Interpreting Ministry (aslinterpreting@sofcc.org)
Audio Ministry (audio@sofcc.org)
FIRE Outreach Ministry (fire@sofcc.org)
Gate Keepers Ministry (parking@sofcc.org)
Helping Hands Ministry (helpinghands@sofcc.org)
Hospitality Ministry (hospitalitydirector@sofcc.org)
House Care (vatadmin@sofcc.org)
Media Ministry (mediadirector@sofcc.org)
Ushers Ministry (ushers@sofcc.org)
To begin serving, reach out to the MOL Director listed above or email VAT.Director@SOFCC.org.
HOW TO GET INVOLVED: MINISTRY OF LEADERS
"And God hath set some in the church…thirdly teachers after that miracles, and then GIFTS of healing, HELPS, governments…" (1 Corinthians 12:28).
The Director of Ministry of Leaders reports directly to Apostle Freeman. The Ministry of Leaders of Spirit of Faith Christian Center consists of various groups of 'visionaires' who assist the ministerial staff in meeting the needs of partners and guests who participate in the worship, Bible Study and fellowship events at Spirit of Faith Christian Center. All Ministry of Leaders visionaires must meet the requirements to be eligible to participate in most departments of Ministry of Leaders. Applications for all departments are available online at www.spiritoffaith.org. Once the application is received, an interview will be scheduled with the Director or Campus Leader.
HOW TO GET INVOLVED: REQUIREMENTS FOR MINISTRY OF LEADERS
Before completing an application for Ministry of Leaders, all workers must meet the following requirements to be eligible to participate:
Must have received Jesus as Lord and Savior
Must be a tithing partner of Spirit of Faith Christian Center for three (3) months
Must have been baptized with the Holy Spirit with evidence of speaking in tongues
Must have been water baptized
Must have completed three consecutive months of Perfecting Class before acceptance into a Ministry of Leaders assignment, continuing with the full course of Perfecting Class study until completion.
In addition, such persons must be men and women of the highest moral standards who display good personal hygiene and have been free for at least six (6) months from smoking, drinking, drugs and any illicit sexual activity before being considered for Ministry of Leaders.
HOW TO GET INVOLVED: AREAS OF MINISTRY OF LEADERS
Your ministry gifts are an important part of Spirit of Faith Christian Center. Once you have met the Ministry of Leaders requirements, we encourage you to join an area of Ministry of Leaders to support the vision.
HOW TO GET INVOLVED: MINISTRY AREAS**
* Eligible for VAT Service prior to meeting Ministry of Leaders requirements
** This list of ministry groups is subject to change without notice. The most current list can be found online at www.spiritoffaith.org.
Audio/Visual Services Executive Director Group (avservices.ed@sofcc.org)

Audio Ministry*
Media Ministry*
Visual Media Ministry
EZ Living Executive Director Group (ezliving.ed@sofcc.org)

Hospitality Ministry*
Marriage Made EZ
Parenting Made EZ
Single Living Made EZ

Fellowship Executive Director Group (fellowship.ed@sofcc.org)

Mighty Men of Valor
Queens in Transition
Seasoned Saints
Women Walking in the Word
Yung GENTS

Fine & Performing Arts Executive Director Group (finearts.ed@sofcc.org)

Children's Choir
Drama Ministry
Music Ministry
Young Adult Music (YAMS) Ministry
Zion Dance Ministry

First Impressions Executive Director Group (service.ed@sofcc.org)

Gate Keepers Ministry*
Helping Hands Ministry*
Ushers Ministry*
Vision Assist Team (VAT)*

Ministerial Services Executive Director Group (elders@sofcc.org)

Elders Ministry
Licensed Ministers
Ministers Internship Program
Pastors Personal Assistants (PPA)
Personal Prayer Ministry

Multimedia Executive Director Group (multimedia.ed@sofcc.org)

Photography Ministry
Social Media
Technology Network Team (TNT)

Operations Executive Director Group (operations@sofcc.org)

Bookstore Ministry
Deacons Ministry
Finance Ministry
Security Ministry
Transportation Ministry

Outreach Executive Director Group (outreach.ed@sofcc.org)

FAITH Institute
FIRE Ministry*
HOPE Ministry
Impact Global
Military Ministry
Prison Ministry
Word Up!

Partnership Services Executive Director Group (rjackson@sofcc.org)

ASL Interpreting*
Baby Dedication Ministry
Health & Wellness Ministry
New Partners Orientation Ministry
Partners Praying Together

Teaching Executive Director Group (teaching@sofcc.org)

Kingdom Executives
Perfecting Class
Wealth, Increase, Serving, Excellence (WISE) Ministry

Youth Ministry (kborders@sofcc.org)

Blaze Ministry
SWAT Ministry